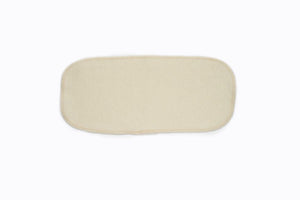 Wool Diaper Liner Factory Seconds
These wool diaper liners are fully functional and are being offered at a discounted price due to minor stitching imperfections that are typically inconspicuous to the untrained eye.
Wool is an amazing fiber!  The exterior layer is water resistant while the inner layer or cortex, is water loving. The cortex can absorb up to one-third of its weight in moisture without feeling damp.  This makes the perfect fiber for a diaper liner.  It can absorb moisture and keep your baby's bum dry at the same time.
Do not lanolize. Hand wash in room temperature water and lay flat to dry. NEVER put wool in hot water. It will shrink and felt the wool. These are the perfect stay-dry liner while using only natural fibers. NO synthetic materials.
They can be used next to the skin as a stay dry liner or between the diaper and cover as a very trim but effective extra layer of absorbency. They can be used as both at the same time for heavy wetters.
Each liner is a single 5 x 11 inch rectangular layer of our felted Oeko-Tex 100 certified Merino Wool.   The Oeko-Tex Standard 100 is a globally uniform testing and certification system for all stages of textile production. This certification ensures that products are free from harmful substances. There is no finer certification than the Oeko-Tex Standard 100. It goes beyond the organic label!
Love it!
We use these at night to keep babys skin comfortable and dry at night. They're awesome! Her eczema has cleared almost completely since switching to wool full time so that makes the having to hand wash these every morning well worth it lol
Perfect
Loving these as a stay dry liner for overnights. They are very thin and they lay flat. No rippling or baconing after repeated wet/dry cycles. They're easy to hand wash as needed, and they air dry quickly. They don't hold urine smell even though they're the closest layer in my setup. I've been laying them out to dry in the morning and using them again that night, and just wash once per week or so. I am not lanolizing mine since they're going between the skin and the diaper.
---
We Also Recommend
---