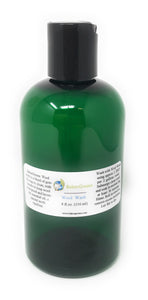 Wool Wash
Babee Greens Wool Wash is ideal for washing all your wool and cashmere products. It is a delicate wash made from a blend of pure castile soap with organic oils, enriched with lanolin and organic lavender. Lavender not only has a calming affect which is a great aid for relaxing and winding down before bedtime, but is also commonly used as a natural moth repellent. Babee Greens Wool Wash is perfect for protecting your wool and cashmere from pesky critters. Although there is a small amount of lanolin in this wash, periodic lanolizing with BabeeGreens lanolin is recommended for maximum leak protection.
Lovely wool wash
I use this to wash my babies merino wool PJ's and sleep sack. It keeps everything super soft.
excellent product
i have been using BabeeGreens wool wash for several years...it is an excellent product...the best i have used of it's kind...and i have used a lot...it does a good job cleaning the wool and they come out very soft
Perfect Wool Wash
This wool wash is perfect for my wool diaper covers and many merino and other wool pieces I'm washing often. I've used it to watch items by hand and in the laundry machine and it works great both ways. I love this and will continue to order as I use it up!
---
We Also Recommend
---