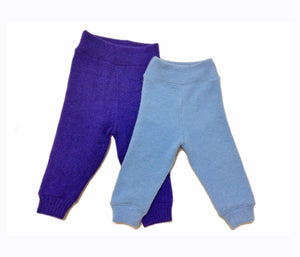 Wool Pants (Longies) - One Pair
Babee Greens' wool pull-up pants/longies are soft, breathable and absorbent. Like all of our wool products, these are very easy to care for. Wool pants serve as both a cloth diaper cover and pants for your baby, absorbing 30% more than your average pull-up diaper.
For sizing, please see below:
| | | |
| --- | --- | --- |
| Small | 3 – 6 months | 12 – 17 lbs. |
| Medium | 6 – 12 months | 17 – 25 lbs. |
| Large | 8 – 24 months | 25 – 35 lbs. |

Since every pair of BabeeGreens pants / longies is unique and these covers are made from upcycled wool sweaters, you should expect a wonderful variety of shades and tones of the color which you select.
Wool pants / longies are highly absorbent. Wool will absorb up to 30% of its weight and still feel dry, yet it remains breathable, allowing maximum circulation around your baby's bum. It contains natural lanolin, which creates a waterproof barrier. Its elasticity means the cover fits well, yet moves with your baby. Wool is easy to care for. It doesn't need to be washed as often as other covers and it is naturally anti-bacterial.
Our 100% merino wool pants / longies are made by upcycling sweaters. Each pair is one-of-a-kind. Each sweater is hand picked with softness for your baby in mind. Sizing can vary slightly due to the different thickness/stretchiness of various sweaters.
Longies are cost-effective since they are a pul-up diaper cover and pants. Handwash and lay flat to dry. Lanolize when needed.
Favorite Pants
We don't cloth diaper so I can't speak to the pants capability with regards to water proofing or leakage but for everyday wear as comfy thermals during winter season— they are phenomenal. We use them on our 14 month old when we're up in the mountains or on chilly days for cozy comfort and warmth. We bought a size large in both wool and cashmere versions and both are so amazingly soft. I wish these came in larger sizes because I don't know what we'll use once she outgrows these and honestly, I wish they made these in adult sizes! Our daughter lives in these pants.
Lovely but smaller/shorter than I expected
I loved the feel of these as well as the beautiful blue color, but the longies were still too short for my one year old and turned out to be capri length! I would love if these were made for older/larger children as well as they are incredibly soft and well made!
Amazing
They're so cozy on my daughter — a very petite 22 month old. We went with medium but will size up for the winter and order two more (plus some for friends!).
So well made!
Cozy, affordable, adorable - what more do you need? I only wish they came in larger sizes as my son grows up!
Love these pants
These are great! I use them over a cloth fitted diaper and there isn't much leak-through of urine onto the floor. We have used them about 10 times and they still smell fresh! Time for a wash soon, but we really love these pants. I sized up a bit for my rapidly growing guy, and even though they were a bit loose in the waist initially, I'm glad I did as they fit well now.
---
We Also Recommend
---